Williamsburg Bed and Breakfast > Policies / Rates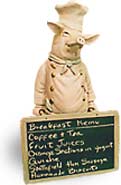 Policies And Rates at our
Williamsburg Bed and Breakfast Inn
Please note the following policies that we have implemented at our Williamsburg Bed and Breakfast Inn. To make your stay as pleasant as possible here in Colonial Williamsburg, Virginia, we ask that you make a note of the following:
Room Rate is $99 - $179 per night (based on room accommodations and season of year). Discounts will be given for more than two nights, off-season and mid-week stays. Spring and Fall are our busiest times. Rates are based on double occupancy.
A two-night minimum stay is required - Holidays may have a 3-night minimum stay.
Children over 8 years of age accepted.
Non-Smoking Williamsburg Bed and Breakfast Inn.
Check-in time is between 3:00 to 6:00 p.m. unless special arrangements are made for later arrival.
Check-out time is 11:00 a.m.
Cancellation Policy: Full amount of reservation is charged for less than 14-day cancellations or early departures. (Special occasions & Holidays have a 30-day cancellation notice) Most Credit Cards are accepted at our Williamsburg bed and breakfast Inn.