New Year's Eve in Williamsburg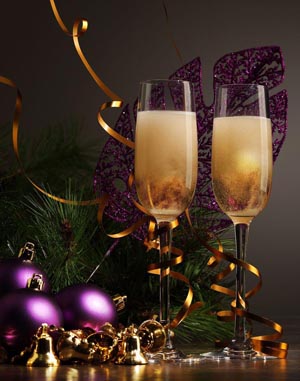 Many people think that the ultimate New Year's Eve experience is amid the hustling, bustling crowds in Times Square in New York City. Sure, it's exciting, but is that really what you are looking for as you ring in the new year? A more relaxing and uplifting way to start your new year is waiting for you in Williamsburg, Virginia.
This town knows how to do the holidays in grand style, without a lot of pressure to party all night long. Colonial Williamsburg features historic programs, and the entire town is engaged in First Night, an arts and music event with multiple locations. For one ticket price (a button that costs $15) you can go to as many, or as few, events as you'd like. There's singing, dancing, food and entertainment.
You can also plan your own night out at any number of fine Williamsburg establishments, selecting just the right tone for your mood this year. On CW property, try the Williamsburg Lodge, the Williamsburg Inn or a tavern. There's also great Merchants Square restaurants like the Fat Canary, Blue Talon Bistro or new DoG Street Pub – just make sure to call for reservations. Other options include New Town in James City County which has multiple dining and nightlife options – with a trolley that runs from downtown Williamsburg and around the college.
At midnight, fireworks are shot off in Zable Stadium at The College of William and Mary, and there's also a live concert. You can actually see the fireworks from several locations in town so your B and B host can recommend the perfect one for you. If you stay at the Alice Person House, you are just two short blocks away from the spectacular finale.
In Williamsburg, you can create a new holiday tradition – with as much excitement and enjoyment as you can stand!