Christmas in Williamsburg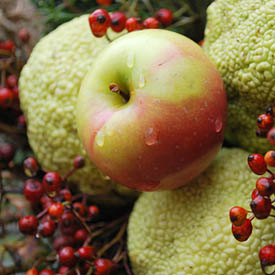 Many people have started putting together "things to experience in a lifetime" lists. Perhaps you even have one yourself. If so, add "Spend Christmas in Williamsburg" to it.
If you swoon over the inn decorated for Christmas in the movie Holiday Inn, if a Currier and Ives vintage greeting card of a home lighted at the holidays with candles in the windows and decorated with a pine needle wreath on the door -- while snowflakes drift lazily down -- makes you feel warm and cuddly, then you must visit Williamsburg during the holiday season.
Colonial charm is everywhere in Colonial Williamsburg all year round and even more so at Christmas. The sights: Christmas trees decorated with lighted candles and popcorn strands; pine swags atop a home's fireplace; candles glowing softly in windows; snow nestled on tree limbs. The smells: hot apple cider brewing; cookies baking in a stone fireplace; turkey slowly basting on a spit.
Visit Williamsburg around the holidays and you'll enjoy many Christmas sights, sounds, and activities that will remain steadfast in your memory for years to come.
Perhaps the best known and most-loved holiday event in Colonial Williamsburg is the Grand Illumination. Generally held each year on the Sunday of the first full weekend in December, the Grand Illumination welcomes the holiday season in with style with a terrific fireworks display! In addition, performers in period costume, fife and drum players, music and the lighting of candles in public buildings, homes and shops also make up this not-to-be missed event.
You also can enjoy tours of historic homes decorated for the holidays. Many of these homes are not open to the public generally, so this is a way to walk inside as well as imagine yourself living there during the Christmas season.
Colonial Williamsburg also offers visitors the opportunity to walk with a guided tour for an up close look at the city's architecture and outdoor decorations. Did we mention shopping? There are unique shops throughout the city to ensure you find the perfect gifts!
You'll also be able to enjoy a traditional Colonial Christmas dinner at many of Colonial Williamsburg's restaurants during the holiday season. Enjoy a glass of wassail (spiced wine) as you tuck in to succulent beef, goose, turkey, or ham (or even fish, oysters, mincemeat pies and -- not too forget -- brandied peaches).
So visit us here at the Alice Persons House around the holidays. You'll be welcome as a member of our extended family and it would be an honor to offer you our unparalleled warmth and hospitality during the holiday season.