A Williamsburg Getaway Makes Any Weekend Special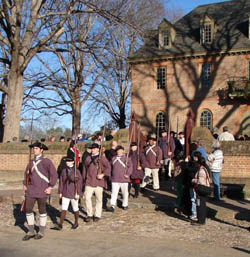 Williamsburg weekend getaways are made for this colonial city. Our bed and breakfast is located only a short walk from Colonial Williamsburg, a block away from the historic William and Mary College, and less than fifteen minutes from Jamestown, Yorktown and Busch Gardens.
But what makes a Williamsburg getaway so unique? There are lots of different factors.
The historic city of Colonial Williamsburg in itself is a marvel to walk around. Meet various re-enactors and hear them talk the way the colonists did, or just wander around the city and admire the architecture on your Williamsburg getaway.
Every time of year can be enjoyed in Williamsburg, VA. Weekend getaways may be the perfect time to enjoy the city in any season. Warm weather comes early to Colonial Williamsburg, but even the winter months are a pleasant temperature for those used to cooler climates. Though snow doesn't often fall during the Christmas season, if anyone takes a Williamsburg getaway in the winter, the charming atmosphere of the town makes the holiday quite special.
For the shoppers, a Williamsburg getaway should not disappoint. There is everything from upscale merchants, outdoor shopping malls and outlets to antique shops and marketplaces that any shopper can lose themselves in. Beautiful things from a beautiful place – what more could anyone ask for?
Plan a Williamsburg Weekend Getaway! Any season in Williamsburg is the right season!