Seasons in Colonial Williamsburg, Virginia
Williamsburg's mild climate makes this city a perfect destination throughout the entire year. Warm and sunny days come early in Colonial Williamsburg, Virginia with blooms appearing in late February. April brings the Garden Club of Virginia house and garden tours.

Summer is a popular time for touring Colonial Williamsburg, Busch Gardens, and Water Country USA. Virginia Beach, which has a great boardwalk, is just an hour drive away. Prefer not to get involved in possible traffic issues? Take the shuttle! New this season, Williamsburg offers a shuttle to and from Virginia Beach. Spring and summer are also good seasons to go on a tour of the Williamsburg Winery, the largest winery in Virginia that is less than 4 miles from our Williamsburg VA Bed and Breakfast!
Autumn colors begin to appear in early October as different trees continue to brighten into December. The College of William and Mary offers football weekends and golf is almost a year-round activity.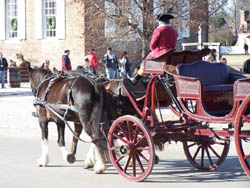 Williamsburg is a jewel during the winter months. Although snows are a rarity in the city, the charming atmosphere of the Colonial Town makes Thanksgiving and Christmas especially romantic. If you are going to be in Williamsburg for Christmas, check out the Christmas Mouse! This shop is just 4 minutes from our bed and breakfast inn and offers unique collectibles, ornaments, trees and more!
Christmas at Colonial Williamsburg is truly worth a visit from anywhere near or far. From the Grand Illumination -- in which the city is lit with hundreds of candles, just as it was done in Colonial times -- to the beautiful authentic colonial decorations, meals, pastries and other traditional Christmas traditions, visiting Colonial Williamsburg in late-November through December truly is a memories-making visit.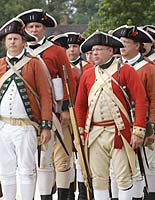 Colonial Williamsburg is filled with many year round attractions. Experience military reenactments and interact with period character actors at Jamestown Settlement and Yorktown Victory Center. Peruse through the many historic buildings, taverns, shops, and homes. Enjoy a day of shopping at Merchants Square, located at the west end of Gloucester Street, just minutes from our Williamsburg Bed and Breakfast. Here, you will find a variety of shops selling clothing, jewelry, souvenirs, chocolates and other gifts. Merchants Square also has a selection of eateries. Other unique shopping experiences include Williamsburg Outlet Mall and Williamsburg Pottery Factory. Click here for ideas of other things to do in the area.
We hope that if you are looking for lodging in Williamsburg, Virginia, that you will join us here at Alice Person House. Filled with antiques and tastefully decorated for your enjoyment, we await your arrival ... no matter what the season!