Grand Illumination: Christmas Event in Williamsburg VA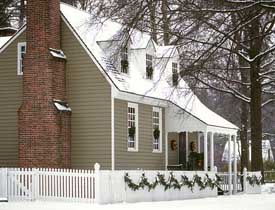 In the wonderful holiday spirit, people from all over gather at Colonial Williamsburg annually to kick off the season with Grand Illumination. There's a lot to do and see the entire first weekend of December, but the capstone is the Sunday evening fireworks display. There's live music and refreshments as well throughout the Historic Area. Head down early to enjoy the music and festive winter atmosphere, but come prepared.
Here are some suggestions:
Get there early! - It's a big day at CW and there are always crowds. Bring something to do or be ready to chat with your neighbors.
Seating - Bring lawn chairs or a heavy blanket. If you have kids, a wagon with blankets is ideal.
Eating - Pack a thermos of hot beverage, some popcorn or ginger cookies. You can also get these around Colonial Williamsburg but you may have to wait in a long line.
Location - Ideally, a spot where you can see two sets of fireworks is the best, but if you can't situate yourself that way, try to get close to the fireworks location, but on the side closest to the exit. For example, if you go to the Capitol, sit as close as you can to the ropes but stay on the sides near the heart of CW so you can slip to the bathrooms as needed and make a quick exit when the fireworks are over.
Social Etiquette - you will very likely end up chatting with whoever is sitting next to you – about the weather, about where they are from, etc. This is just part of the camaraderie that Grand Illumination creates! Offer them some of your snacks or watch their possessions while they take a stroll.
Weather - almost every year, the first weekend in December is chilly, but many people are unprepared, either because they are visiting and figure that Virginia will be warmer or they are locals and forget that being outside at night is generally very chilly. Gloves and hats are a must.
We're glad you are planning to join us for this event, and hope these tips will help you enjoy a truly magical time of year in Williamsburg.